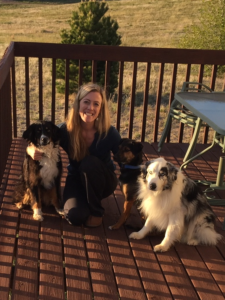 Industry Sector: Academia
Location: Strasburg, CO
Originally from Canada, Rebecca grew up in Ohio and graduated college with a B.A. in Psychology and English.  Rebecca obtained her Masters in Clinical Psychology from Rutgers University.  While at Rutgers, Rebecca worked with college students and community members struggling with anxiety, depression, and eating disorders.  She also worked at the Princeton Center for Leadership Training, gaining invaluable experience creating curricula, designing and implementing large-scale student events, and training adults and students on a variety of prevention programs.
After seven years in the field, Rebecca decided to take her training expertise in a new direction and spent the next part of her career with an educational software firm.  Rebecca traveled extensively in North America and Europe, providing software implementation, training, and consulting.  Always a passionate animal lover, Rebecca returned her focus to the helping fields and attended Bel-Rea Institute, with the goal of working in shelter medicine.  Graduating in 2016 after interning at the Denver Dumb Friends League, Rebecca obtained her CVT and accepted the position of Student Services Coordinator at Bel-Rea.  In her current role, Rebecca focuses on student success and has implemented new workshops that promote personal growth and academic achievement.
Rebecca spends her free time with her husband, dogs, horse, and chickens on their ranch east of Denver.  She is an avid reader, competitive tennis player, and is always striving to grow personally and professionally.
---
 Vice President - Kristen Purcell
Industry Sector: Clinical – Rehabilitation
Location: Aurora, CO
Born and raised in New York, Kristen moved to Colorado in 2001 for a fresh start and to attend the Bel-Rea Institute of Animal Technology. She graduated in 2003 and has been a member of the Colorado Association of Certified Veterinary Technicians ever since. The first decade of being a CVT Kristen gained experience working in general practice, emergency medicine, orthopedic and emergency surgery, and management.
When Kristen approached her 10 year anniversary of being a CVT she decided to pursue her dream of working in canine physical rehabilitation. She began training and working in a rehab facility in 2013 and successfully completed her Certificate in Canine Physical Rehabilitation through the University of Tennessee in 2014. In 2015 Kristen attained an additional certification in Small Animal Massage Therapy through the Northwest School of Animal Massage. She is also in the process of completing a supplemental certification through the University of Tennessee in Canine Manual Therapy. Kristen is now the supervisor of the rehabilitation department and is in love with her job. She finds joy and satisfaction in improving pet's quality life through pain control, function, strength and overall quality of life.
When Kristen is not at work she enjoys being active. She loves quality time with her husband and furry kids, participating in fun activities with her close circle of friends, and running half marathons and obstacle races.
---
 Treasurer - D. Lynn White
Industry Sector: Veterinary Nonprofit
Location: Highlands Ranch, CO
Lynn White has been busy figuring out what she wants to be when she grows up.  A proud-to-be-called "Air Force brat," she lived in and traveled to many different places around the world.  Most importantly, she learned early in life that the world is full of possibilities.  While her first love as a small child was animals, she didn't have much experience with pets.  Although she once thought she would be a veterinarian, her path led her to a Master's Degree in Accounting (go figure!).  Several years into her financial career she realized that her heart was yearning to be somewhere where she could make a real difference.
One fateful day her beloved 6-year old kitty cat, Timber, became gravely ill.  The veterinarians at the emergency clinic did not expect her to live through the night, but they took a chance on the little one.  Miraculously, Timber eventually recovered and lived to the ripe old age of 18 years old!  Inspired by Timber's tenacity and Lynn's other feline companion, Trouble, Lynn quit her corporate job and went back to school to earn her Associate's Degree in Veterinary Technology.
After working in the veterinary field as a CVT and managing the inventory of a veterinary clinic, Lynn realized her goal of combining her passion for animals with her financial skills. She currently has the daily opportunity to change lives as the Director of Finance for the non-profit organizations PetAid Colorado and the Colorado Veterinary Medical Association. Now with her amazing husband, Robert, and her 2 new little furry rescues, Betty and Clyde, she lives a life full of possibilities better than she could have ever imagined and strives to make a difference every day.
---
 Secretary - Danielle Larimer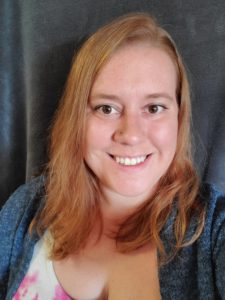 Industry Sector: Insurance
Location: Lone Tree, CO
Danielle, originally from Arizona moved to Colorado to attend Bel-Rea Institute, graduating in 2013. While at Bel-Rea, she gained experience working with the resident reptiles and birds. After falling in love with Colorado and deciding to stay, she started working at Alameda East Veterinary Hospital in the ICU/ER department. Following three years in emergency medicine, she left AEVH in 2016 to focus on another area of the veterinary field. Currently, she works at Nationwide Pet Insurance as a claims analyst and quite enjoys it.
Danielle met her husband, Adam, while attending Bel-Rea and they are expecting their first child in May of 2018. They presently live in Lone Tree with their 2 dogs, Amelia, and Brandy, and 2 cats, Mr. Fred Weasley, and Mr. Peepers.
---
 Board Member - Heather Allman
Industry Sector: Private or Corporate Clinical Practice
Location: Parker, CO
Heather graduated with Honors from Bel-Rea in 2004 with an Associates of Applied Science degree. After graduating she started out in general practice and after a few years, obtained a research position at Colorado Health Sciences center as a CVT. She eventually transitioned into non-profit, working at Harrison Memorial Animal Hospital as a CVT and Inventory Manager where she got the opportunity to volunteer with the CVMA helping with various projects as well as with SART (Colorado State Animal Response Team). During this time, Heather quickly realized that her interest lied in the operations, leadership and business side of the industry leading her back to school and obtaining an Associates of Science in Business. From there she worked in a large general practice as a CVT and then as the Practice Manager for several years. Concurrently, Heather obtained a Bachelor of Science degree in marketing as she discovered her passion for effectively and creatively showcasing the incredible, dedicated individuals of our profession, the work we all do and educating the community about veterinary medicine.
Heather went on to work with a pet insurance company educating veterinary professionals throughout the state of Colorado on the ins and outs of insurance and how to use in their practice. Currently, Heather works as a veterinary Marketing Manager and enjoys teaching others about marketing and how it truly can take their practice to the next level. She runs a blog titled The Tachy Tech which is dedicated to providing veterinary professionals the tools and resources to navigate their career and finding the path that makes them happy while nurturing their mental health. In her spare time, you can find her all over Colorado paddle boarding with her son Hunter and her pup Paisley, curled up with a good book, learning a new craft or watching Harry Potter.
---
 Board Member - Emily Edmonds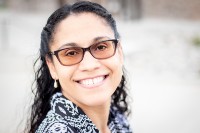 Industry Sector: Private or Corporate Clinical Practice
Location: Castle Rock, CO
Emily Edmonds moved to Colorado and served in the Army as a medical specialist at Fort Carson until 1999. After a few years in human medicine, she decided to pursue a career in the animal medical field and attended Bel-Rea Animal Institute of Veterinary Technology earning an AAS degree and became a Certified Veterinary Technician in 2002.
Emily began her career at a small mixed animal practice attaining basic technical skills, learning and understanding the value of the responsibilities of being a technician. She purposed to focus on how to apply what she had learned, honing her technical skills and becoming familiar with the variety of responsibilities this career has to offer.
Shortly after a year of experience, Emily developed an interest in anesthesia and deviated her focus to advancing her knowledge and skill in this area. Her endeavor began with the transition to a specialty practice working for the surgical department alongside an incredible team of board-certified surgeons and a well renowned anesthesiologist. The goal she had achieved during this time of her career was years of invaluable experience gaining knowledge and technical skills; creating opportunities to advance in a variety of avenues.
Emily was given an opportunity to step into a supervisory role at a general practice, leading a small team into an exponential growth in hospital size and services provided to the community.  Realizing the hard balance of being a technician supervisor and working as a technician, she decided to take more of a specific role within the practice and became their surgical department supervisor which allowed her to combine her passion of anesthesia and continue to lead the team. Emily became aware of how much she enjoyed taking veterinary assistant/technician interns under her wing and giving them the experience, they were seeking out of their internship.
Once Emily became a part of the VCA family, her goal was to focus on building and developing her hospitals' surgical department. She soon became their technician supervisor and shortly thereafter, was given the privilege to be VCA's Regional Technician Career Development Coordinator for Colorado. Her primary focus is on helping others develop a career path, offering training and resources VCA provides.
Emily has always pursued advancing in her career with education and experience. She very much appreciates and values what every person has to offer within the team. Emily enjoys teaching and leading others to achieve what they aspire for their career.
Whenever Emily is not focused on her career, she spends time with her family watching movies, enjoying life in the outdoors hiking, biking or snow shoeing and scrapbooking all of the pictures taken on her adventures!
---
 Board Member - Mo Good
Industry Sector: Private or Corporate Clinical Practice
Location: Englewood, CO
Mo started working in the veterinary field when she was still in high school partially running an animal hospital for almost a year before Hurricane Katrina hit. Her team of doctors immediately relocated to assist in animal rescue efforts while Mo remained in Chicago to run Fur Keeps Animal Rescue. In those months, she organized radio publicity for donation drops, moved 3 semi-truck trailers of supplies to satellite facilities in need, and coordinated the movement and adoption of over 300 homeless pets from Katrina. The fast-paced lifestyle those few months created lead her into emergency work as a Veterinary Technician. Her real enthusiasm for the job is two-fold; high volume laboratory workloads and delivering high quality care to the patients in I.C.U. After Mo finished her Associates degree in Business Management, she decided she needed to learn more about medicine and moved to Colorado to attend Bel-Rea.
The weather and views here stole her heart; she discovered a deep love for the outdoors. Being raised in Chicago, her first time driving on a dirt road was in Larkspur (white-knuckling it all the way) and her first hike in these very mountains.
Mo has worked for Emergency, Neurology, and General Practices for several years but took a break to pursue a quest: backpacking the Colorado trail. A 483-mile trail that starts just south of Denver and ends in Durango. She finished the trail in September of 2017. Just in time to help a new ER/Specialty clinic in Castle Rock open. Mo is currently the Inventory Manager at Veterinary Specialists of the Rockies and hopes to eventually VTS in Clinical Pathology.
Mo and her husband have 3 dogs and 1 cat. Ditka, a corgi-rottweiler mix, is the doting big brother who believes the Exotic Shorthair, Trillian, is his own personal pet. Zelda is a wire-haired terrier mix that would prefer to be on a paddleboard or wrapped around your neck, like a scarf, than act like a real dog. Their newest addition is a female pug named Curmudgeon. Mo is an avid gardener, gamer, horror movie fan, and hiker.
Industry Sector: Academia
Location: Parker, CO
Kirsten graduated from Bel-Rea Institute of Animal Technology in 2016. During school and after graduating, she worked at Animal Emergency & Specialty Center in the emergency department.
In 2017, she started work in research at the University of Colorado Denver | Anschutz Medical Campus. This position allows her to combine her love of animals & research. Kirsten completed ALAT certification in 2018 and LAT certification in 2019.
She is currently pursuing a bachelor's degree in Mathematics at the University of Colorado Denver and studying for LATG certification.
---
 Committee Chairs & Liaisons
Certification Committee Member: Susan Brauer, CVT (Aurora, CO)
Western Slope Regional Liaison: Melody Quammen, CVT (Delta, CO)
Student Liaison: Elizabeth Salan, CVT (Denver, CO)